Real Madrid have what it takes in the squad to replace Manchester United-bound Casemiro, according to Carlo Ancelotti.
Ancelotti confirmed on Friday that Casemiro had expressed his desire to leave Madrid in order to join United.
The holding midfielder, who has been crucial to Madrid's success under both Ancelotti and Zinedine Zidane, is in line to move to Old Trafford for a fee in the region of £51million (€60m), with add-ons potentially taking the deal to £59.4m (€70m).
While Ancelotti has no issues with the 30-year-old's want for a new challenge, Casemiro's departure leaves a void in Madrid's midfield, with the Brazil international having formed a formidable trio with Toni Kroos and Luka Modric.
That midfield conquered Europe last season and led Madrid to Ancelotti's first LaLiga title, and Casemiro's quality was on show again in last week's Super Cup as Los Blancos defeated Eintracht Frankfurt 2-0.
Casemiro was named man of the match after making nine successful tackles and recovering possession 10 times, which were both game highs.
Since the 2015-16 season, Casemiro has won 415 tackles in LaLiga alone, a far better tally than second-best Saul Niguez (382).
Yet with Madrid having signed Aurelien Tchouameni from Monaco and the versatility of Kroos, Ancelotti is confident he already has the options in midfield to plug the gap.
"Casemiro has been a key player, who fits perfectly with Kroos and Luka Modric. It's been an incredible combination for all the success we've had in the last few years," Ancelotti said in a news conference.
"Within the squad we have a lot of good replacements. Tchouameni was signed in order to play in this position. We have some other options like Kroos who can play in this position, as he did in the second year I was here as a coach back in 2014 when we won 22 games in a row.
"Replacing Casemiro with another player with his same skills is difficult but we have other players ready to replace him with other characteristics. They can play in this position, but not with the same skills.
"We need to keep in mind that a player like Casemiro, defensively, is more similar to Tchouameni than Kroos, but Toni has some different characteristics and can also play in that position."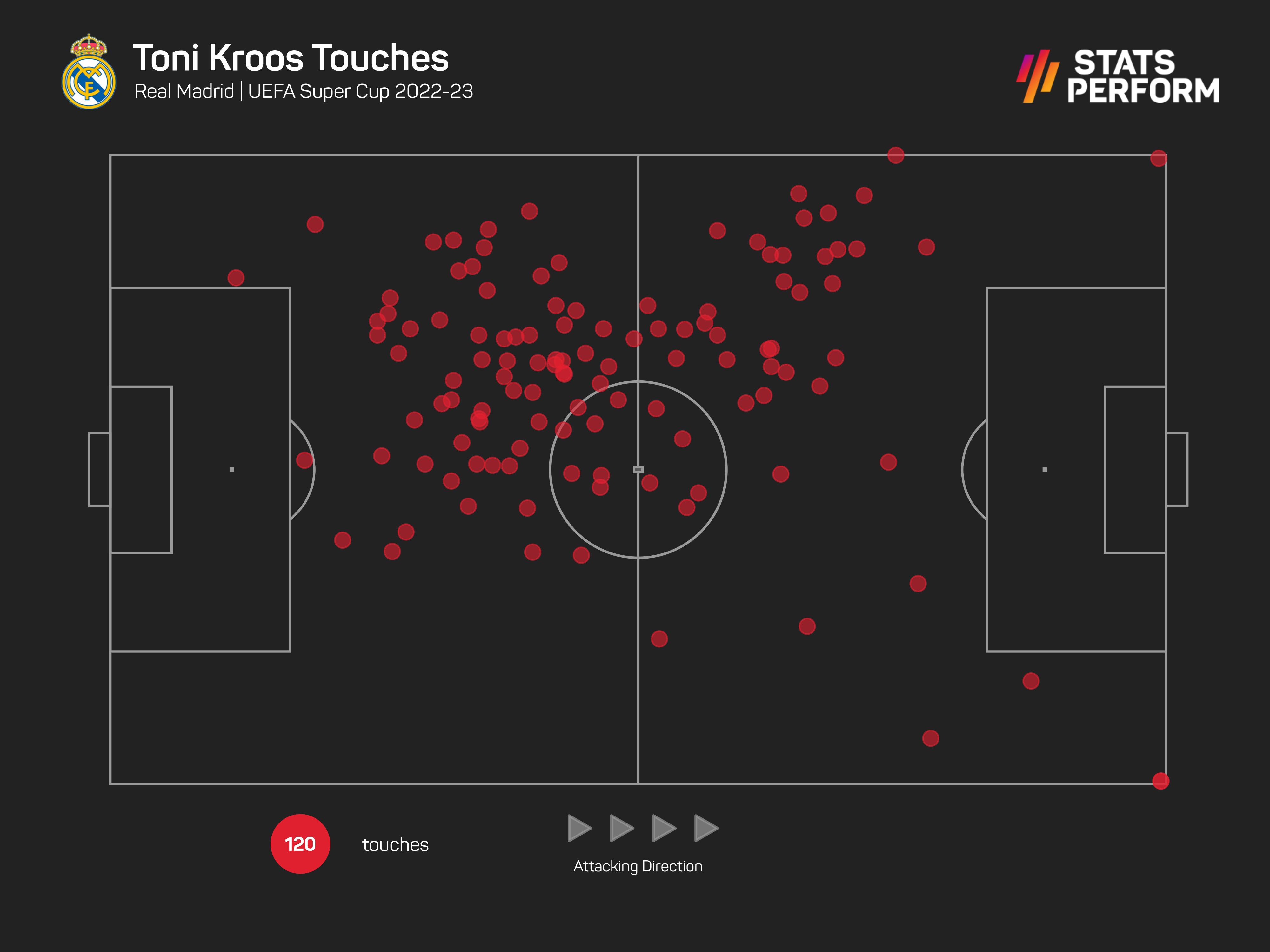 Kroos displayed his ball-winning abilities in the Super Cup, as he regained possession nine times, second only to Casemiro, while also having 120 touches and completing 97 passes.
When it was put to Ancelotti that the former Germany international had previously suggested he does not enjoy playing in a holding role, Madrid's boss quipped: "He has never told me that. If he tells me that, it doesn't matter, he will play there!"
Asked if Casemiro had provided his reasons for wanting to leave, Ancelotti said: "I cannot answer. It's his personal decision, he wants to try a new challenge and he's the one who has to explain this.
"Something similar happened when I was Milan's coach. I was feeling really good but I wanted to try something new, even if I was feeling very well there because that club was a family to me, but I thought about trying something new, a new experience, another league and language. It's personal but I understand it.
"He shows his will for this new challenge. We have to respect it. We are not sad, not angry, but at a personal level when you spend so many years with this kind of player, so kind, so professional, it's normal that you're not happy, but we will show respect for his decision."